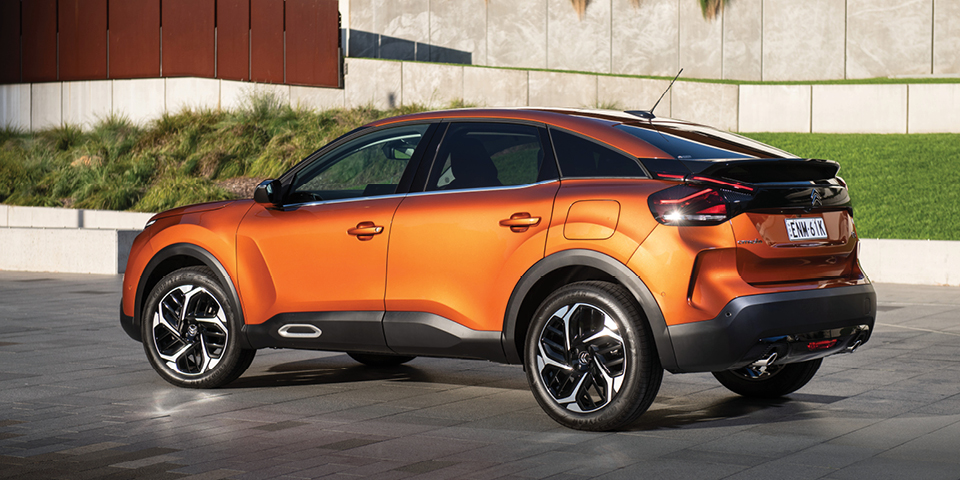 THE CITROËN C4 /// COMFORT REINVENTED
New Citroën C4 harmoniously combines the smooth and refined lines of a hatchback with the generous space and strength of an SUV. This, along with the inclined roof line, gives it an aerodynamic profile that's unique in the category.
New Citroen C4 succeeds in combining the refined and dynamic lines of a compact hatchback with the generous volumes and robustness of an SUV.
Unparralleled driving comfort at your fingertips: extra wide and welcoming seats, smoother suspension with our Progressive Hydraulic CushionsTM, carefully designed acoustics and spaciousness thanks to the optional panoramic glass sunroof.
Contemporary and welcoming, New Citroën C4's interior has been designed to ensure serenity reigns supreme.he CITROËN ADVANCED COMFORT TM programme delivers innovative, technological and intelligent solutions to create wellbeing for drivers and passengers alike, and confirm Citroën's driving-comfort credentials.
Four main themes are at the heart of this comfort engineering: the cocoon effect, practicality, fluidity and peace of mind.
CLEVER EQUIPMENT /// SMOOTHER DRIVING /// AN EXCEPTIONAL INTERIOR SPACE
AN EXCEPTIONAL INTERIOR SPACE
On board, life is made easier thanks to generous volumes, practical storage and clever layout. The New C4's long wheelbase also offers extended knee room at the rear and passengers benefiting from impressige legroom. Thanks to the wide seats, three people can be seated in the rear and still enjoy optimal comfort.
A NEW APPROACH TO COMFORT
New C4 is equipped with innovations exclusive to Citroën in terms of comfort; From the Citroën Advanced ComfortTM program, reflected in the suspensions with Progressive Hydraulic CushionsTM, which provide a real flying carpet effect. In addition, the wide and welcoming seats ensure exceptional well-being and support.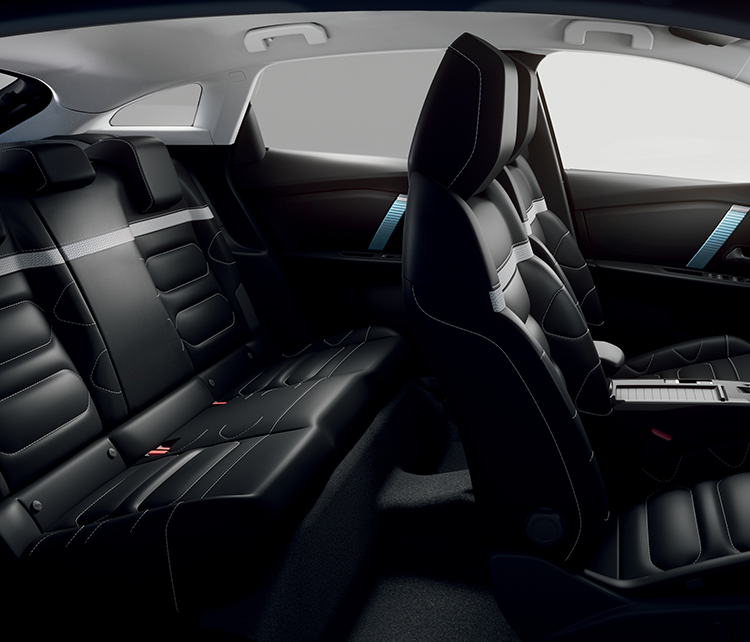 ADVANCED COMFORT SEATS
New C4 has seats with wide seats and backs. These provide different types of comfort: Visual comfort with their padding, welcoming comfort with instant softness and support, and postural comfort thanks to a high density foam at the heart of the seats which prevents cushion compression after several hours of driving.
TOTAL COMFORT
Citroën's progressive hydraulic cushions are a technological innovation that filters out bumps and dips on the road to give you the most comfort when driving.
DRIVING ASSISTANCE TECHNOLOGIES
For real peace of mind, New C4s are equipped with 16 latest-generation, easy-to-use driver assistance technologies. They can be controlled from the steering wheel or from the car's touchscreen tablet and have been developed to both improve driving safety and reinforce onboard comfort.
CITROËN CONNECT PLAY
For seamless continuity between the digital world and the car, New Citroën C4 are fitted with a 10'' touchscreen featuring voice activation. As the nerve centre of the car, you can use this to access the very latest generation Citroën Nav 3D navigation system. Combined with services such as locations of fuel stations and car parks and local points of interest.
SMOOTHER DRIVING
New Citroën C4 features a new automatic eight speed gearbox control with an elegant guilloche metal design. It has three easily selected positions: reverse (R), neutral (N) or forward drive (D). It's also linked to two backlit buttons: P to activate park mode, and M to activate manual driving mode in conjunction to the steering wheel mounted paddle shifters.
Discover the best of all worlds with Citroën C4, combining the elegance of a hatchback and the versatility of an SUV.