PEUGEOT FOR PROFESSIONALS
Peugeot is launching three all-new commercial vehicles in Australia, with each featuring high levels of standard safety specification, including the first vans to feature Autonomous Emergency Brake (AEB) range-wide as standard.
The fitment of AEB as standard will also be backed up by standard reverse camera and parking sonar across the entire Peugeot commercial vehicle portfolio. All Peugeot vans will feature a minimum of four airbags as standard, with driver and passenger airbags complimented by either a side curtain, or thorax airbag.
The first of the range, Peugeot Expert Van is now on sale!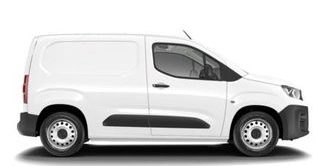 PARTNER VAN
Introducing Peugeot Partner, a van that arrives with a cargo area full of International awards.
All-new Partner, available in two body lengths, is built on a version of the EMP2 platform that underpins Peugeot's highly awarded passenger car and SUV portfolio.
Partner will launch with an array of segment leading features including:
Autonomous Emergency Braking/Active City Brake (AEB)
Segment leading lane-departure warning, front and rear parking sonar and surround rear-vision camera and six-airbags (passenger and driver front airbag, 2x curtain and thorax airbags)
Speed sign recognition with recommendation, paired with electronic speed limiter
Left-side sliding doors with 180-degree barn doors rear for easy loading and unloading
Peugeot's first LCV to feature i-Cockpit cabin design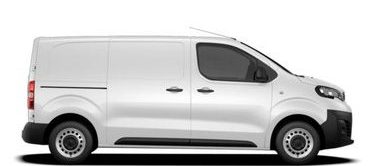 EXPERT VAN
Launching May 2019, the Peugeot Expert is designed to respond to a variety of different uses and the search for efficiency by business professionals.
Available in two body lengths, all featuring three-seat configuration, the Peugeot Expert offers up-to 6.6m3 of cargo volume and up to 1300kg of payload capacity with a load length of up-to 4 metres.
Standard Autonomous Emergency Braking/Active City Brake (AEB)
Payload weight : up to 1499 kg
Maximum load height : 1397 mm
Blind-spot monitoring
Reverse camera
Driver Attention Alert
Four airbags including driver and passenger airbag, along with curtain airbags to both occupants
Dual-side sliding doors with 180-degree rear barn door
Peugeot Expert – on sale NOW!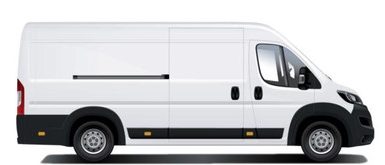 BOXER VAN
Available in the third-quarter of 2019 is Peugeot's Boxer,  available in two body lengths and featuring over 11.5m3 (13m3 for long body) of cargo volume, with a maximum load length of 3.1-3.7m, the Boxer has been designed to ensure a high level of reliability and endurance, compatible with intensive use in service.
Like its smaller stablemates, the Boxer arrives with drivers and occupants in mind and features as standard;
Autonomous Emergency Braking (AEB),
Reverse camera
Rear parking sonar and four airbags (driver and passenger airbags, with thorax airbags for both occupants).
Payload : up to 1900 kg
Load volume : up to 17m3
Our customers say the nicest things …
I bought my new Citroen from here. Greg Bunting and his team have been exceptional with their personalised service. They go the extra length not just to satisfy customers but also for the great passion they have towards the brand. Well relaxed and not pushy rip off tactics played here. Give them a go and at least you will learn about cleverness and quirkiness of Citroens.

I recently bought a car here. They calmly and faithfully handled everything well.

We are based in Melbourne and the car we wanted was in Sydney. Communication with the dealership was very straightforward. Bill and the crew are very friendly, considerate and helpful, making the whole process very smooth. We were able to transfer a deposit subject to inspection. Upon arrival at the Citroën dealership, we were very happy with the car inspection. We transferred the remaining balance and were on our way home in no time. Although, my wife and I would have liked to stay longer just to have a coffee and a nice chat with Bill ☺

Would highly recommend.

Citroen Centre have looked after all my motoring needs (sales, service and advice) since 1989. Owners Bill and Greg Bunting are people of absolute integrity that proudly carry on a family tradition of excellence in supporting the needs of their customers.

During my long association, Bill, Greg and their team have consistently provided me with an up to date knowledge base on every model that I have owned, an extensive parts inventory and advice from expert long term service and sales support staff who possess a complete knowledge of all Citroen models, past and present.

I recommend them as the complete one stop shop for anyone looking for service or considering a vehicle purchase.

Clinton Eames-Brown

9/02/2018

I recently purchased a late model Peugeot from Continental Cars. As an interstate buyer, I found Bill and Steve to be particularly helpful and straight-forward in discussions and negotiations. When I collected the vehicle, it was precisely as described on the website, and was presented immaculately. Steve, Bill and the lovely receptionist (whose name I unfortunately didn't get) were very professional in all my dealings with them. I can't recommend the team highly enough, and would have no hesitation in buying from Continental Cars again.

I went with my car for the first time to this centre. I was impressed by the calm and friendly nature of the staff who dealt with me. They were very clear in what was to be done to the car were genuine in their approach. I especially want to thank the managers and the technical staff who dealt with my car. It's like the food in the restaurant - the chef plays a big role in the success.

Peter Kirubaithilakan

3/15/2018

I just purchased a secondhand C5 from Citroen Centre. I live interstate and with the virus couldn't inspect the car before I bought it. I relied upon the dealer to be completely honest about the car, which they were.
The car arrived at my place promptly and was as described by Bill. They threw in a few accessories and carried out a major service on the car at cost.
I wouldn't hesitate recommending Citroen Centre/Continental Cars.

I wouldn't take my Peugeot or Citroen anywhere else, Greg and his team are experts and professionals in their craft.

My negative experience with another dealer in Warwick Farm across four years led me to request Citroen for an alternative repair center.

I have learned to appreciate the nuance in taking my vehicles to a specialist professional, rather than a mass card yard of brands.

Richard Babanour

12/29/2020

Recently bought a quality used car from Continental Cars. Very impressed by their relaxed, unstressed and helpful professionalism. A real pleasure to deal with Bill and Greg. David Welch

Rebecca Hugonnet

3/06/2019

Also helpful. These guys have been around for decades. Hope the new distributor listens and take care of them.