The Peugeot Expert is equipped with a number of latest-generation driving aids for a safer, more comfortable drive.
ACTIVE SAFETY BRAKE
Active Safety Brake is an automatic emergency braking system that intervenes if it detects an imminent collision. The camera and radar can detect both mobile and fixed obstacles. In this case, should the driver fail to brake, either sufficiently or at all, the system automatically triggers the braking system, helping to prevent a collision when travelling at less than 18mph, or to reduce the impact of a collision by reducing the impact speed when travelling above this speed.
AUTOMATIC SWITCHING BEAM
Only active at night, the headlights of the Expert van switch automatically from main beam to dipped beam and vice-versa depending on other vehicles detected by the on-board camera.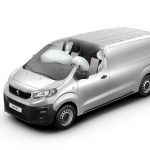 AIRBAGS
The Peugeot Expert panel van is equipped with four airbags:
Two front airbags to protect the head and thorax of the driver and passenger in the event of a front impact
Two side airbags to protect the driver and front passenger in the event of a side impact
Our customers say the nicest things …
I have purchased many new vehicles over the last 20 years but Bill from Continental provides the next level of service and Citroen is certainly the go to brand. I highly recommend dealing with Continental as you will not be disappointed with their vehicles, service or product knowledge.

French car specialists in every way, all staff have decades of experience with the brands. Do not go anywhere else if you own a Citroen or Peugeot

Citroen Centre have looked after all my motoring needs (sales, service and advice) since 1989. Owners Bill and Greg Bunting are people of absolute integrity that proudly carry on a family tradition of excellence in supporting the needs of their customers.

During my long association, Bill, Greg and their team have consistently provided me with an up to date knowledge base on every model that I have owned, an extensive parts inventory and advice from expert long term service and sales support staff who possess a complete knowledge of all Citroen models, past and present.

I recommend them as the complete one stop shop for anyone looking for service or considering a vehicle purchase.

Clinton Eames-Brown

9/02/2018

Recently had my Citroen C4 repaired by Greg and the team.
Absolutely extraordinary service.
Went above and beyond to solve a problem that had been plaguing my car for years.
Couldn't recommend highly enough.
Will definitely be going back there for all my services and repairs.

Many of my family and friends are amazed at the number of cars I have purchased from Bill and Greg at Citroen Centre, sight unseen. Why? Well it's all to do with reputation, trust, experience, integrity and dealing with a company that truly understands the meaning of customer service. I first dealt with Citroen Centre (nee Continental Cars) circa 1980 and have never purchased a Citroen anywhere else, and never will as long as its owned and run by the Bunting brothers. If you want a Citroen or Peugeot you would be mad not to give them a call.

I went with my car for the first time to this centre. I was impressed by the calm and friendly nature of the staff who dealt with me. They were very clear in what was to be done to the car were genuine in their approach. I especially want to thank the managers and the technical staff who dealt with my car. It's like the food in the restaurant - the chef plays a big role in the success.

Peter Kirubaithilakan

3/15/2018

My wife and I have dealt with Greg and Bill Bunting for nearly 30 years and have bought 4 Citroens from them. Their service is exceptional and their cars beautiful. My latest purchase 10 years ago, a 2008 C4, has proved extremely reliable and other than the usual annual service the only problem being a rear tail light and an engine mount......in 10 years! I wouldn't hesitate to recommend them.

They are picky about the cars they sell, so you know they are high quality and their aftersales service is on a level I have never seen. I have purchased dozens of cars over the years and recently purchased from these guys for the first time. Definitely a repeat customer here.

I have been a customer of Continental Cars for 21 years now, with my family having purchased thirteen cars from them over this time. Our latest purchase was a new Citroen C5 Aircross which suited my wife perfectly. And amazingly, Continental were able to get the car in the colour we wanted in the space of 2 weeks! The sales process went so smoothly and our service experience over the years has been outstanding. Bill and Greg make buying and maintaining a car an absolute pleasure. We wouldn't go anywhere else.

Purchased a new Partner van last week. Dealing with Bill was great, he is easy-going and very knowledgeable with the motors. Would recommend using these guys for sure.