The Peugeot Expert is equipped with a number of latest-generation driving aids for a safer, more comfortable drive.
ACTIVE SAFETY BRAKE
Active Safety Brake is an automatic emergency braking system that intervenes if it detects an imminent collision. The camera and radar can detect both mobile and fixed obstacles. In this case, should the driver fail to brake, either sufficiently or at all, the system automatically triggers the braking system, helping to prevent a collision when travelling at less than 18mph, or to reduce the impact of a collision by reducing the impact speed when travelling above this speed.
AUTOMATIC SWITCHING BEAM
Only active at night, the headlights of the Expert van switch automatically from main beam to dipped beam and vice-versa depending on other vehicles detected by the on-board camera.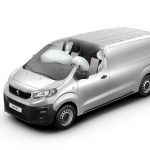 AIRBAGS
The Peugeot Expert panel van is equipped with four airbags:
Two front airbags to protect the head and thorax of the driver and passenger in the event of a front impact
Two side airbags to protect the driver and front passenger in the event of a side impact
Our customers say the nicest things …
French car specialists in every way, all staff have decades of experience with the brands. Do not go anywhere else if you own a Citroen or Peugeot

I love cars, in particular French ones. My relationship with the Citroën Centre spans 30 years and more than 10 cars from them. Bill, Greg and their team are truly outstanding in their service, knowledge and devotion to the iconic Citroën and also Peugeot brands. My experience with other car brands and their "service support" or lack thereof, really helps put in perspective how good Continental Cars are.

I just purchased a secondhand C5 from Citroen Centre. I live interstate and with the virus couldn't inspect the car before I bought it. I relied upon the dealer to be completely honest about the car, which they were.
The car arrived at my place promptly and was as described by Bill. They threw in a few accessories and carried out a major service on the car at cost.
I wouldn't hesitate recommending Citroen Centre/Continental Cars.

Thank you so very much to Bill, Greg and the team at Continental Cars where we bought our C5. From the very moment we first got in contact with Bill, we knew he loved cars and particularly the C5 and that really appealed to us. When we finally bought her everyone at CC was friendly, helpful and super efficient ... and eager to keep up the maintenance on a much beloved member of their Citroen family! My husband and I were extremely impressed to find such Citroen enthusiasts who genuinely love their cars and what they do. A pleasure to deal with Bill and the family!

I recently purchased a late model Peugeot from Continental Cars. As an interstate buyer, I found Bill and Steve to be particularly helpful and straight-forward in discussions and negotiations. When I collected the vehicle, it was precisely as described on the website, and was presented immaculately. Steve, Bill and the lovely receptionist (whose name I unfortunately didn't get) were very professional in all my dealings with them. I can't recommend the team highly enough, and would have no hesitation in buying from Continental Cars again.

I bought my new Citroen from here. Greg Bunting and his team have been exceptional with their personalised service. They go the extra length not just to satisfy customers but also for the great passion they have towards the brand. Well relaxed and not pushy rip off tactics played here. Give them a go and at least you will learn about cleverness and quirkiness of Citroens.

Also helpful. These guys have been around for decades. Hope the new distributor listens and take care of them.

I have been a customer of Continental Cars for 21 years now, with my family having purchased thirteen cars from them over this time. Our latest purchase was a new Citroen C5 Aircross which suited my wife perfectly. And amazingly, Continental were able to get the car in the colour we wanted in the space of 2 weeks! The sales process went so smoothly and our service experience over the years has been outstanding. Bill and Greg make buying and maintaining a car an absolute pleasure. We wouldn't go anywhere else.

Citroen Centre have looked after all my motoring needs (sales, service and advice) since 1989. Owners Bill and Greg Bunting are people of absolute integrity that proudly carry on a family tradition of excellence in supporting the needs of their customers.

During my long association, Bill, Greg and their team have consistently provided me with an up to date knowledge base on every model that I have owned, an extensive parts inventory and advice from expert long term service and sales support staff who possess a complete knowledge of all Citroen models, past and present.

I recommend them as the complete one stop shop for anyone looking for service or considering a vehicle purchase.

Clinton Eames-Brown

9/02/2018

Bill & his team are exceptional - very knowledgeable, customer focused, professional & patient! Even though we are from the North Coast of NSW, they made it easy for us to obtain information, & then negotiate & transact our trade-in & purchase. We've now had our Citroen C5 SUV for a week & we love it!